SOUNDPROOFING SET OF FLOOR ON JOISTS
Calculate soundproofing solution
Укажите площадь звукоизолируемого пола
S = A * B
A - длина в метрах
B - ширина в метрах
Attention! The calculation is for informational purposes only. Before ordering, we recommend you to consult with specialists.
The height of the floor on joists is 10 cm.
PROCESS CHART:
Step 1
Before starting works related to soundproofing of the floor, check the floor slab and joints between the slab and the walls for cracks. Any cracks discovered should be filled up with cement and sand grout (CSG). Eliminate any irregularities from the slab. If the slab is tilted heavily (the difference of levels throughout the space is > 2 cm), use leveling screed.
Step 2
MaxForte-SoundPRO is used for vibration damping of wooden joists. Cut rolls of the material into strips with a width a little more than that of the joist (wooden bars 50 mm in width are normally used for joists).
Step 3
Place joists made of wooden bars (50 x 50 mm in size) on spread MaxForte-SoundPRO strips:
а. First, mount the joists around the perimeter of the room, 50-100 mm from the walls.
b. After that, fill the entire floor with joists so that the distance between them is about 600 mm.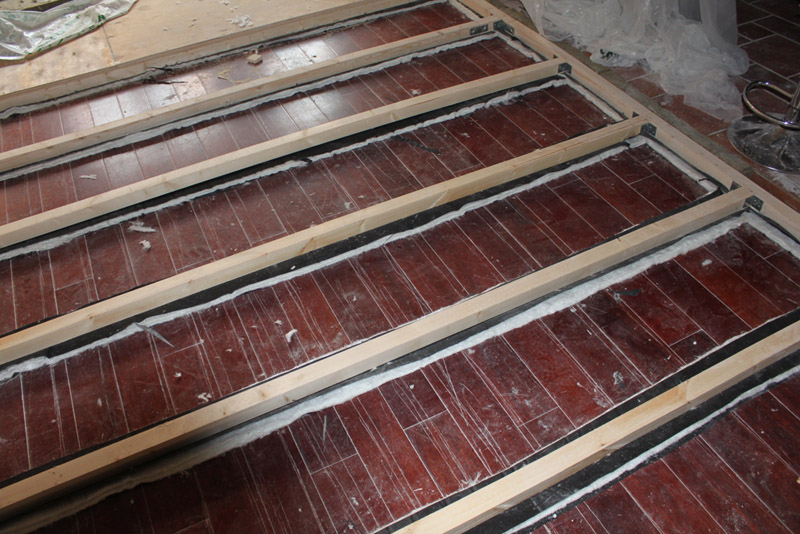 Important! Joists must not touch the walls. When joists are fixed rigidly, sound bridges are formed reducing the soundproofing efficiency significantly.
Step 4
Place MaxForte-ECOplate 60 kg/m3 sound absorbing plates between the joists. Lay the plates tight to each other so that there are no gaps between them.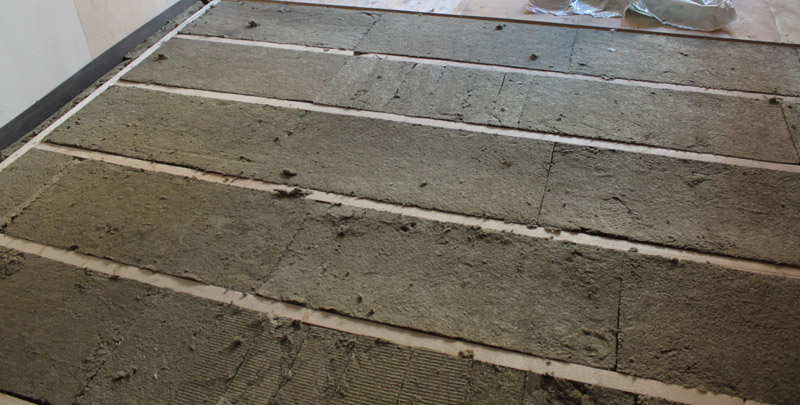 Step 5
Lay wooden flooring made of plywood sheets in 2-3 layers (the total thickness of the flooring should be 3-4 cm) on the joists. Flooring layers should overlap each other without butting in joints:
а. Lay the first layer of plywood on joists through MaxForte damping tape.
b. Smear the layers of plywood with a coat of MaxForte-HydroStop single-component rubber and fasten them with self-tapping screws.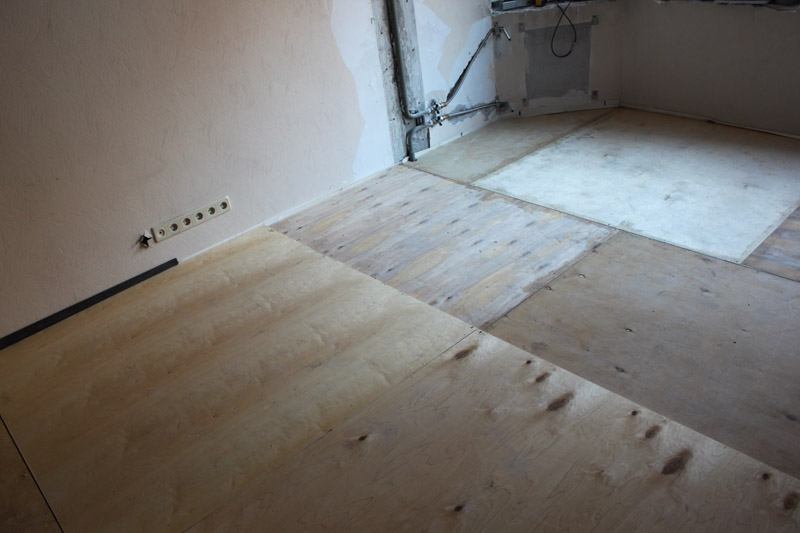 Important! The plywood flooring must not adjoin the walls rigidly. You can use MaxForte-SoundPRO or two layers of MaxForte damping tape as a damping layer.
Step 6
After the floor soundproofing work is finished, MaxForte-Light elastic base should be laid on the plywood covering under the final flooring (laminated or parquet flooring).