...
SUSPENDED CEILING THIN SOUNDPROOFING SET
SUSPENDED CEILING THIN SOUNDPROOFING SET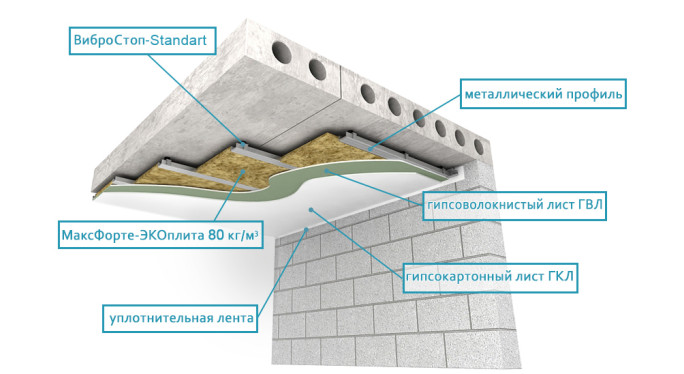 This is a second thin option of ceiling soundproofing. In this option, the impact noise is isolated by the VibroStop Standart vibration insulating hangers, and the sound is absorbed by the 80 kg/m³ MaxForte-ECOslabs (thin slabs of 3 cm in thickness). This structure is based on the 60/27 mm KNAUF profile providing a smooth ceiling surface. After the ceiling is mounted, it is ready for finishing; no additional levelling should be required. The above structure is designed for complete isolation against the domestic noises – like voices, TV, footsteps and trampling – in the apartment buildings. Noise reduction down to 14 dB.
price for 1м²

from 1570 ₽

Width

4-5 cm

Sound Insulation Index

61 dB
Calculate soundproofing solution
Укажите площадь звукоизолируемого потолка
S = A * B
A - длина в метрах
B - ширина в метрах
Смета является примерной и носит информативный характер.
Расчет материалов указан с запасом 5% и округлён до целой упаковки.