APARTMENT SOUNDPROOFING
Apartment soundproofing has become an integral part of the repair works today. The low quality construction and the improper layout, as well as the use of the modern powerful speakers, result in the necessity of the noise insulation.
Apartment soundproofing may be made preventively or after-the-fact. In the first case, the potential noises of the new apartment are not yet known. In this instance, the acoustic engineer analyzes the layout of an apartment and the calculated characteristics of its walls and floor structures to make a decision on the optimal design for a particular apartment.
The similar procedure should be followed in the second case for after-the-fact soundproofing. The difference is that the type and the level of the disturbing noise is already known.
Before starting the work, make a decision on where the sound insulation should be necessary: throughout the whole apartment or in some rooms only, for example, in the bedroom. It is clear that the overall soundproofing will provide high acoustic comfort throughout your apartment, but the financial issues should also be taken into consideration. With a small budget, you can only soundproof the rooms (the bedrooms, a nursery). A compromise option is often used when different level of soundproofing is provided for each room depending on its purpose. Depending on your budget, the MaxForte experts will offer you the most suitable option of sound insulation to achieve the comfortable conditions on the largest possible area.
Complex soundproofing of an apartment requires that all subtleties and nuances of a particular premise were taken into account. For example, the sound insulation for the floor should be chosen depending on the carrying capacity of the floor structures in the house: the wooden floor structures of the old housing stock cannot bear the "floating" screed because of high loads. And when choosing the sound insulation for the walls, it is necessary to take into consideration the walls structure and the expected loads on walls.
If necessary, our acousticians will draft a free design clearly showing the types and the locations of sound insulation products to be applied (with a rationale for the made solution) as well as the detailed calculation of the required materials.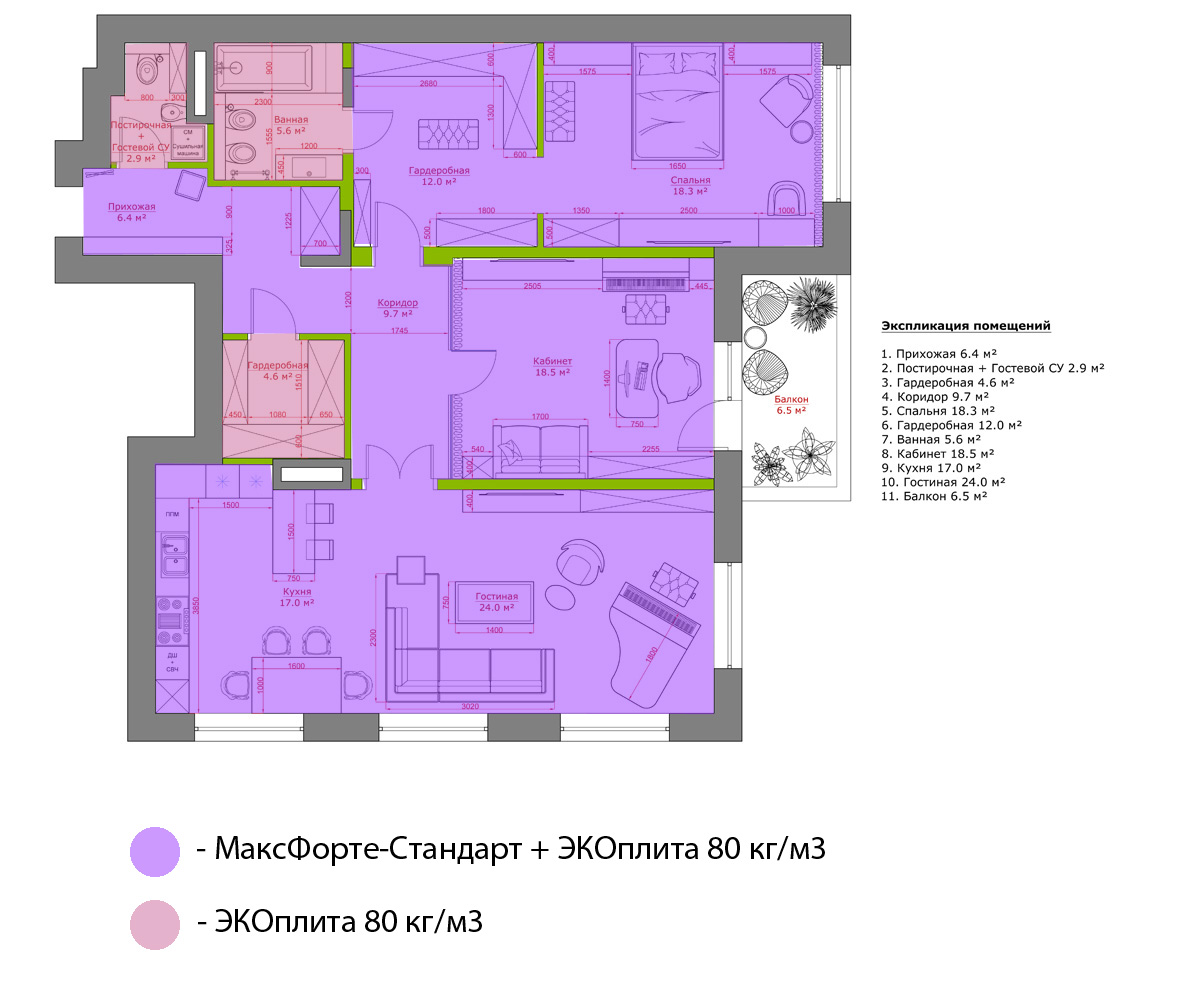 APARTMENTS SOUNDPROOFING SAMPLE DESIGN