SOUND INSULATION OF PARTITIONS
Today, most of the apartments in new buildings are offered for sale in partitions-free open design. So the material and the design of the interior walls must be chosen personally by the apartment's owner. If soundproofing is a matter of the highest priority, it is preferable that the inter-room partitions be made as the sound insulated framed structures but not of the commonly used gypsum partition blocks or foam concrete blocks.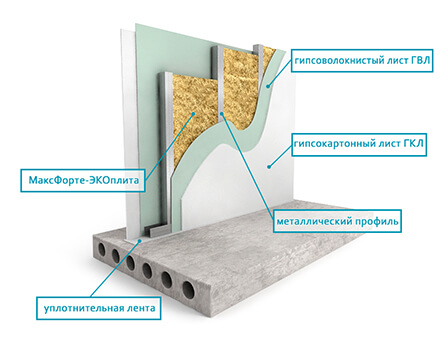 (10 cm thick)
Maximum sound insulation of partitions at minimum cost. Soundproof drywall partitions can be the excellent replacement for gypsum partition blocks or foam concrete blocks. The partitions made as per KNAUF technology are highly rigid and able to withstand the heavy loads. The standard 10 cm thick 60 kg/m³ MaxForte-ECOslab partition ensures sound insulation of 55 dB which is sufficient for comfortable stay. Featuring the simple design and quick installation, the soundproof drywall partitions are a proved reliable solution for sound insulation of apartments, offices, recording studios and other premises.
(15-16 cm thick)
Unlike the basic option, the strengthened option consists of the separate frames - two 50/50 mm KNAUF PS profiles installed in parallel with no contact to each other (at a distance of 5-10 mm). Thus, the soundproofing partition consists of two entirely separate halves (left and right). Separate frame structures significantly enhance sound insulation (options with insulation of as high as 70 dB are possible). Strengthened option of partitions soundproofing can be used locally inside the apartment between the bedroom and the children's rooms or for isolation of the home theater.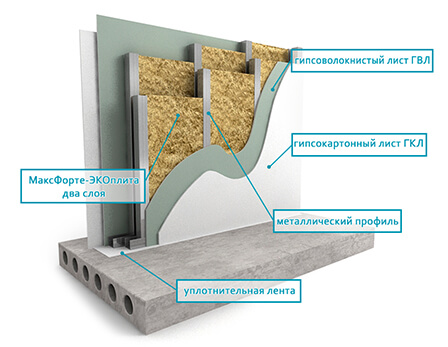 THE ADVANTAGES OF OUR SOUNDPROOFING PRODUCTS
IF YOU STILL HAVE ANY QUESTIONS